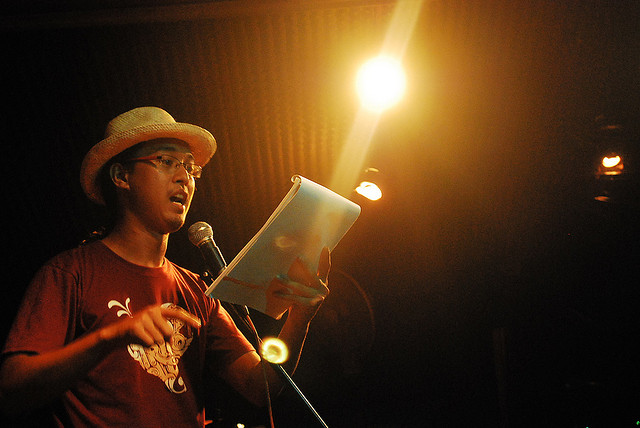 Poetry is a culture. For others to appreciate it, you can't merely write it. You must also recite it. The purpose of poetry readings is to emphasize your joy for the art form. Hearing poetry is what first attracts people to it. Think about the nursery rhymes that you heard as a child. Those were poems, and hearing and speaking those words gave you a thrill. Poetry readings free verses from their pages. They create a community and allow you to test how your words reverberate with others.
Different Types of Poetry Readings
Poetry Conferences
Poetry conferences are like writing conferences. In general, a group's leader recites poetry and provides a lecture about the work. Participants then complete writing exercises to nurture and strengthen their skills.
Poetry Festivals
At poetry festivals, several new, emerging and established poets gather to interact with the local community and gain press coverage.
Open Mic Events
Often hosted at bookstores, libraries, coffee shops or other venues where a group can gather, open mic poetry readings allow poets to recite their own works or the works of others. Open mic events have different rules about the length of a reading, the use of music or props, and the use of costumes.
Poetry Slams
Poetry slams are competitive events in which poets read or recite their works. Each poetry slam has its own rules regarding the originality of the poems read, time limits and the use of props and other items. The judges at these events are generally five members of the audience.
In the first round, all the participating poets read one poem. The top-scoring poets move on to the subsequent rounds. While the audience members can provide feedback (i.e., applause or jeers), judges must not let the audience influence their scores. The marrying of poetry and performance via slams has opened the world of poetry to non-traditional audiences, as the works become a tangible, intriguing experience.
Poetry Groups
Informal poetry groups are similar to book groups. The group reads a book or collection of poems and later meets to discuss the works. During the group session, participants read selected poems and may read their own original works.
Poetry Performance Tips
• Know the meaning of the poem, as well as the meaning of each line and word.
• Practice reading aloud before an event to know when to pause and how to pace the words.
• Have good posture and look confident.
• Maintain eye contact with the entire audience.
• If there are no microphones, project your voice so everyone can hear you.
• Enunciate and articulate the words in the poem.
• Avoid using a singsong voice when a poem rhymes.
• Use appropriate gestures, but don't act out each word.
• Use your voice to give your words life and color.
Finding Reading Poetry Groups in Your Area
When you want to participate in a poetry reading, ask area libraries and bookstores about groups they may host. They may also be able to tell you about poetry groups or clubs that meet in the area. Keep in mind that nearby colleges might have poetry groups. If you don't find a group in your community, create one with 10 to 12 people that meets each month.
In an October 2012 article in The New Yorker, poet Donald Hall advises, "Watch out. A poem must work from the platform but it must also work on the page." Poetry was print before it became sound. By reading your works aloud, you'll gain an understanding of how your poems truly resonate with all audiences.
[Photo from Pauline Balba via CC License 2.0]